Rocazino injured during semen collection.
​The GOV, AHS, ARS and Old NA approved, FEI Dressage German Oldenburg Stallion Rocazino was injured earlier this summer while being collected for fresh semen. Rocazino's team of veterinarians is working closely together to ensure Rocazino is offered the best possible treatments and physical therapy solutions available. It is yet unclear what the future holds for Rocazino. However, it appears as if he, at a minimum, will be able to enjoy retired life. Whether or not Rocazino will be able to return to the sport will depend on how well he responds to the therapies applied.
It is also unclear if Rocazino will be available for fresh cooled semen in the future. However, enough semen has been frozen and stored that he will be available next year for frozen semen.
As his owner Fie S Andersen of Equito Dressage puts it: Rocazino has given me everything, he never says no. He owes me nothing. I owe it to him to make sure he is happy and healthy. If he gets to the point where he can return to the sport, I will consider it.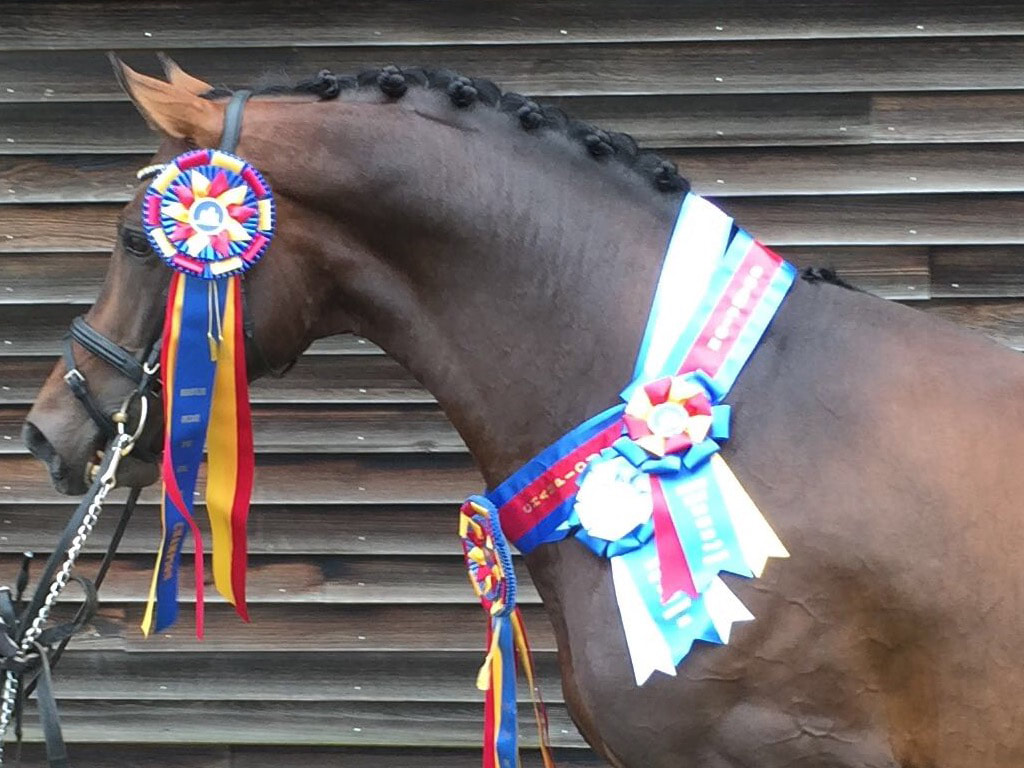 ​2017 is is full swing and a lot of things are happening!

Oldenburg GOV and Weser-EMS Inspection at Equito South July 2nd 2017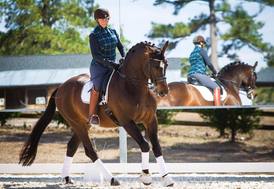 Rocazino is now a successful Intermediate I horse with scores in the upper 60s, I am beyond proud of my big boy who has been with me since I found him in Denmark when he was 4!
The very talented Allie Conrad snapped a bunch of lovely photos of both Rocazino and Dancer at our spring clinic with David Collins.
Rocazino is schooling both piaffe and passage and we are starting to get an idea of the one time changes.
Rocazino makes every day a good one.
---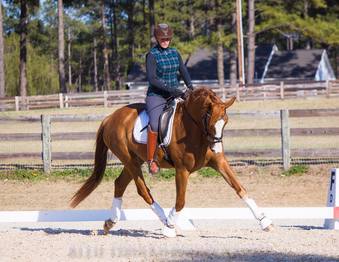 Royal Dancer HM, bred by Hof Mendenhall and owned by Samantha Kidd,​ came to Equito for training as an unbacked 4 year old in November 2016, she needed a little longer to grow and finish maturing so we took our time with the backing process. Well, we are in June of 2017 and the girl is still slowly growing..... Dancer is a incredibly special girl, and I absolutely love her! It is hard to pick which gait is better! Allie Conrad captured this moment in the trot at our David Collins Clinic in the spring.
At Dancer's first ever show she went wonderfully at TIEC in Tryon, NC in April. Dancer earned a 86.7% showing off her suppleness and very good gaits! Our next outing will be in Raleigh, NC in July where we are looking forward to in hand and Materiale Classes.
---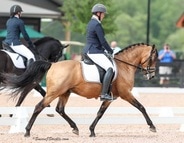 ​The Duke of Clarence a lovely imported German Riding Pony Stallion has earned his scores to be presented for approval with the Weser-Ems Registry! Clarence went above and beyond the requirements by earning the scores at Third Level, rather than the required Second Level. Clarence has several foals on the ground, they all posses his inquisitive and friendly temperament, Clarence also passes on his athleticism which is extraordinary both for the dressage arena and over fences!
​This PONY stallion moves like a warmblood and held his own against horses at Tryon!
---
Rocaphina EQD
is in foal to Sezuan and we are awaiting a spring of 2018 foal!
Tomillo VII
has found a new person, he is with a dear friend and client, Samantha Kidd who is the owner of Arion Sporthorses. Tomi is a schoolmaster for Samantha and is still fulfilling his duties as a stallion. For bookings please contact
Arion Sporthorses
directly.
Dozor
has found his very own person (or rather family) Mary Bramly and co. We are so excited to see the updates and photos coming from Mary and Dozor. They match is sweetness and in silliness! We couldn't be any happier.


​2016 has been an amazing season!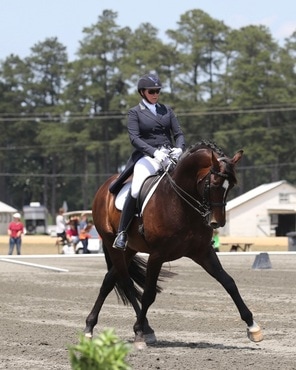 Rocazino is now fully licensed with American Hanoverian Society, Hanoverian Verband, Oldenburg GOV, American Rhineland Studbook, International Horse Society Oldenburg NA, and American Warmblood. With that achievement and last years USDF DSHB Horse of the Year for Stallions 4 years and older, we have decided to retire Rocazino from the breed ring!
​This year has beed dedicated to find greater strength and straightness, and we can't wait to see what 2017 brings for Rocazino!

​Rockabye EQD is this years USDF DSHB Horse of the Year for Two Year Old Colts and Geldings RESERVE CHAMPION!!! He looks like father and has the same fantastic disposition! Rockabye EQD and Rocaphina EQD have started getting familiarized with tack and lunging to make the backing smooth. Rocaphina was so comfortable with the process that Fie swung her leg over and did a little walk and trot. Phina loved to trot!!! We are so excited to see how the babies will come along.

Tomillo VII has an amazing season earning several scores in the mid to upper 60s at both Inter II and Grand Prix! Tom may be available for an on farm lease to the right rider! Please email or call for more information!
​
---
New mare alert!!! Thank you Eliza!
Rocazhey EQD is sold, and Dozor has moved in!
Rocazhey EQD (on the right) is now a Georga resident with her new owner Jessica. Rocazhey has already made it to a couple of shows and is building confidence in Jessica! I am very excited to see what the future holds for this team!

​Dozor is the newest EQD resident, he was imported from Europe, he and his owner did not jive and ended up with us. He has plenty of personality and fits right in. If Dozor comes around he may be out showing with the rest of the crew next season.

​

---

We are beyond excited to announce the arrival of our new mare EM Dallara!! Thank you Eliza Rutherford of Foxwood Hanoverians for selling this stunning mare!

Dallara is a breathtakingly beautiful mare by the popular German stallion DaCaprio (Davignon/Caprimond). Dallara won her regional foal show in Germany and qualified for the Hanoverian Foal Championships. She was the #1 yearling filly in the 2002 USDF Horse of
the Year standings. Dallara was presented to the AHS for studbook approval in 2005 (with a foal by her side) and was Reserve Champion with an overall score of 7.5. In 2006 she was Champion of her MPT and become an Elite Mare. She was the second highest scoring mare in the country with an unbelievable 8.44 (8's and 9's on all scores!). Also in 2006 Dallara was named Champion Mare and Champion Mature Horse at the Broadfield's Dressage Sport Horse Show.
Dallara has produced many high quality foals and we are excited to see a Rocazino x Dallara cross.
​Interestingly they both have two offsprings sitting in RESERVE CHAMPION for USDF DSHB Horse of The Year!!

---

​
Spring 2014 - The Highs and the Lows
With horse breeding comes miracles and tragedy. This year the thing any breeder fear happened to us at Equito. We lost out lovely Seraphina HM due to injuries sustained during foaling. Her final gift is a stunningly beautiful filly, we have named her EQD Rocaphina, there are days where it is painful to watch this precious filly because she looks so much like Seraphina, with time it is getting easier. Seraphina will live on through her filly. Sera, thank you so much for Rocaphina, you are greatly missed, we wish we could bring you back.
On a much happier note.
Robina has found her new home with a lovely family in Georgia, She is due with a full sibling to EQD Rocaway in mid June, we can't wait to see baby photos!
The first show of the season is over and again the horses have progressed, the partnerships are evolving, bringing horses along is always exciting and rewarding! out of 9 rides Equito went home with 6 blue and 3 red ribbons, showing at First Level, Third Level, PSG, and I1.
This winter Linda Mendenhall sent Dakesa HM and Reminisce HM for training, the girls are doing very well. Dakesa is now working well older saddle, and have had her debut under saddle and off the lunge line in the big arena! What a smart and talented girl. Fie and Reminisce are becoming a team, at their first show together they won all three First Level Classes, with scores ranging from 76.9 to 81.9!!! Fie absolutely loves working with these incredibly well bred mares. They both love to work and are very talented! Visit
Hof Mendenhall
to learn more about their outstanding breeding program.
Siep had some super tests, especially an I1 test where he scored 71.4% . Rocazino had his debut at Third Level. He did very well, scoring 70.5% in his first test!
The horses were amazing and we couldn't be more proud!
Up next is Centerline @ HITS Saugerties in June! Dakesa HM will have her 'under saddle' show debut in the materiale classes. Reminisce HM, Rocazino, and Siep will be out showing off their brand new Musical Freestyles!
Seraphina HM - Rest in Pease beautiful girl
Winter 2013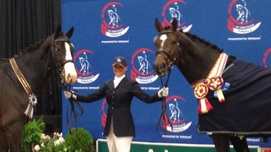 What a busy Fall and Winter, so much has happened and so much is going on! First a huge CONGRATULATIONS to both Rocazino and Siep for their successes at The US Dressage Finals! Both boys proved that they fit right in with the competition. Rocazino had several super tests and ended up Second Level Open Champion with a 74.921% and Second Level Musical Freestyle Reserve Champion with 72.833%, narrowly missing the Championship Title. Siep went in a couple of I1 teasts and did well, he shone in his warm up PSG and won it with 70+%, in his Championship test Siep put in a good effort and placed 8th with 65.211%. Huge thanks to the team that made the US Dressage Finals such a fun filled and successful event! My parents Annette and Jørgen Andersen made the trip from Denmark to be at the Nationals to provide support and help! David Collins flew in to coach me throughout the competition! Linda Mendenhall did the road trip from NY to KY and from KY to NC! One of the road trip highlight was to see a black bear lumbering across the highway. Katie Ostrom Joining us from Cherryville, NC, she and Linda made sure that the horses were comfortable and presentable! Cyrus flew down from MA to support and cheer! Thanks to the most fantastic team! We hope to be able to repeat the KY trip next year!
Before the winter hit in New England We escaped to Southern Pines hoping for another mild winter, however that did not happen. With two snowstorms in one winter I think we broke some record!! We are ready for Spring!! In January we managed to get to New York to train with David Collins at Centerline Stables for a week, what a treat! We had some great lessons and left inspired with homework to do!
Hof Mendenhall sent us their two lovely mares Reminisce HM, better known as RiRi or Riley, and Dakesa HM, we are very excited to welcome these beautiful talented mares to Equito Dressage!

---
Hof Mendenhall sent us their two lovely mares Reminisce HM, better known as RiRi or Riley, and Dakesa HM,

We are looking forward to continuing Riley's training and to start Dakesa under saddle. Dakesa shows tremendous potential, and so she should with her star studded pedigree! Many photos of the girls will follow!
Foaling season is coming close. This year we are expecting two foals, Seraphina HM x Rocazino and Robina x Rocazino. Robina may be for sale to the right home. Please inquire.
In anticipation of spring, jumps are back on the outside perimeter of dressage arena, cross training is important, especially for the youngsters! Riley is very intrigued with the jumping, Rocazino loves it, Moe has it down packed, and Siep was having a blast, what a change from last year where Siep was offended by the mere presence of jumps near him! Dakesa will be walking over walk poles soon.
David Collins is coming to Southern Pines for a weekend clinic towards the end of March - there may be a few openings for riders hauling in. More information will be up soon!




Fall of 2013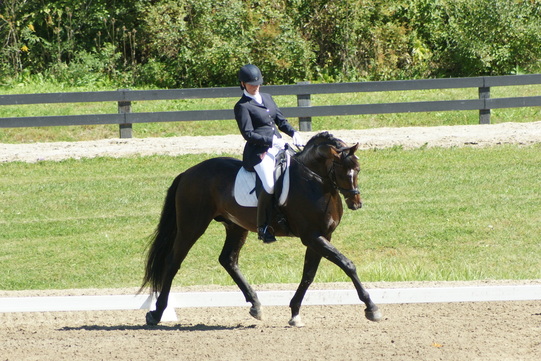 NEDA Fall Festival came and went! I can't believe how well all the horses did!
Rocazino won the Region 8 Second Level Open Championships, the Region 8 Second Level Musical Freestyle Championships, the Stallion Championships, and the Region 8 Stallion Breeders Finals. Rocazino also won the Second Level Sweepstakes and the Stallion Sweepstakes. With Rocazino's performance at the Championships he qualified for the
US Dressage Finals
!!
Siep was a little uncertain with the business of the show grounds the first day, but had it all figured out by day two where he took Reserve Champion in the Open PSG Championships and thus qualifying for the US Dressage Finals. The show also included a I1 win for Siep. What a good boy!
EQD Rocaway won his foal class and was Reserve Champion in the Foal Championships. He behaved incredibly well! We are so very proud of EQD Rocaway. Aimee Boyer had her eye on EQD Rocaway since the day he was born, and it was with great joy I delivered Rocaway to Aimee's farm shortly after NEDA Fall. Congrats on the purchase of Rocaway!
Huge thanks to Bobby Murray for handling both Rocazino and EQD Rocaway at the breed show! Bobby is one amazing handler!
---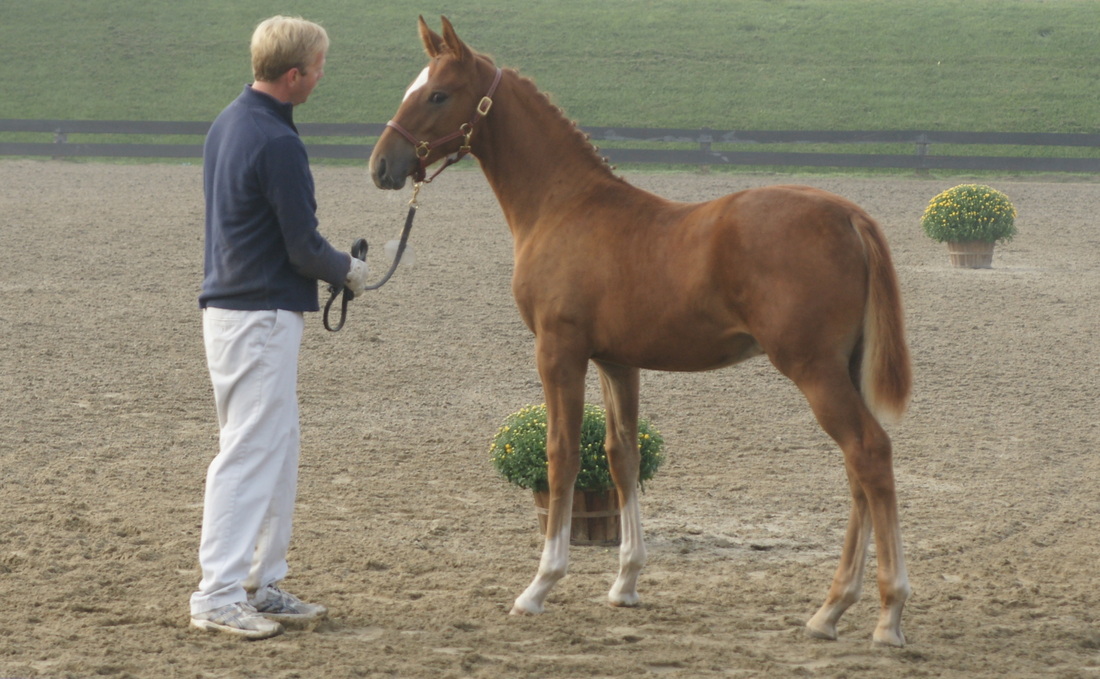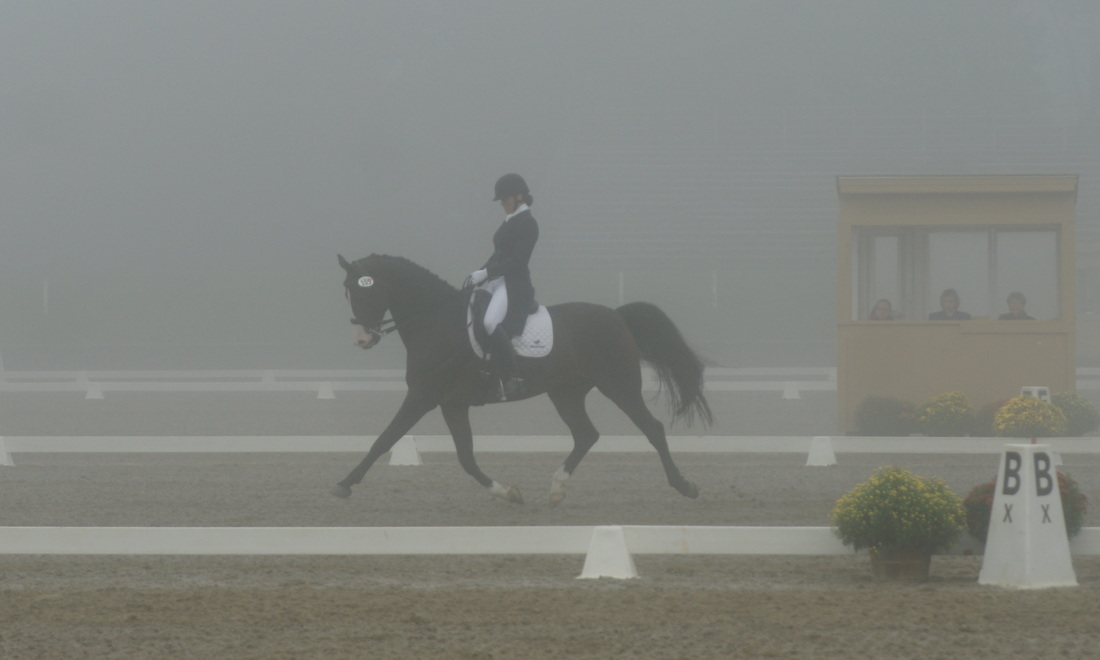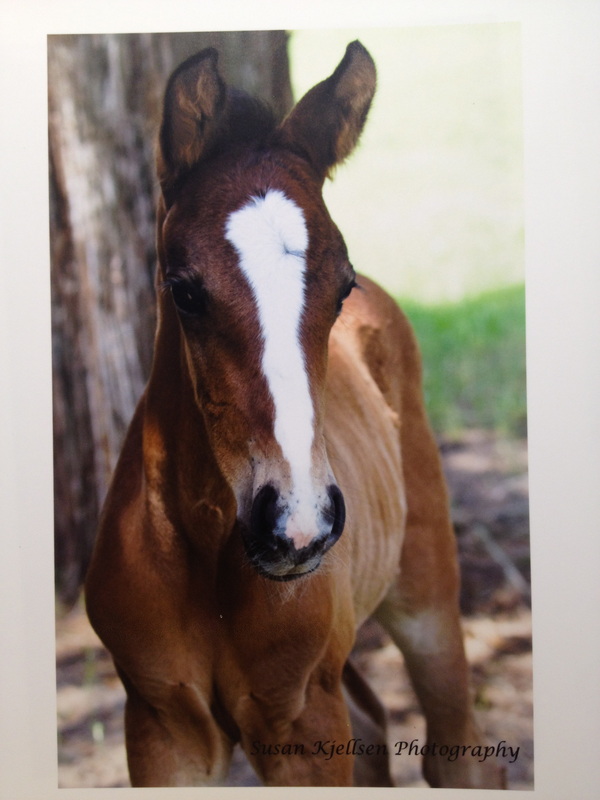 Long overdue Summer of 2013 news!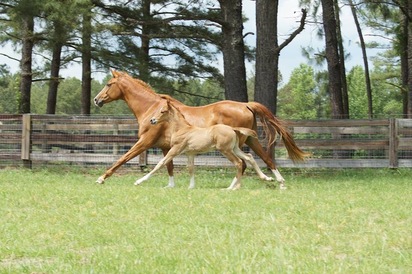 A lot have happened, Robina had a beautiful colt in the end of April, in the photo he is three weeks old. Later in the summer we had to make the unbearable decision to put little Rocazina to sleep, she had a septic joint, and with a guarded prognosis paired with the risk of surgery on a barely three week old foal we did what we thought was best for her. We feel lucky to have had her in our lives, she is such a special little soul. She will always be missed!
On a lighter note, we have added a horse to the Equito Team, Siep have moved into out barn and our hearts! Siep is a KWPN with show experience through I1, Fie has shown him PSG and done very well with two scores in the mid sixties and three scores at 68%. Rocazino spend the winter getting stronger, his canter stride is very big, and Fie did not feel that he was strong enough, to address this she added gymnastics to his work out routine, BOY can that horse jump!!! The scores at the first couple of outings reflected Rocazino's need to develop more strength, he still won most classes, but with scores in the mid to high sixties. After taking a couple of months off to get that little bit of carrying capacity developed, Fie and Rocazino came back with a vengeance, earning 71%, 76.5% and 78% at GMHA Dressage Days winning all classes entered! Job Well Done.
Next on the schedule is a couple of quick training trips to Centerline Stables where Fie, Rocazino, and Siep will train with Fie's long time mentor David Collins. Mid august it is back in the show arena, Centerline Events is running a fantastic show at the HITS, Saugerties facility. We cant wait to meet with all of out friends for a great show!


---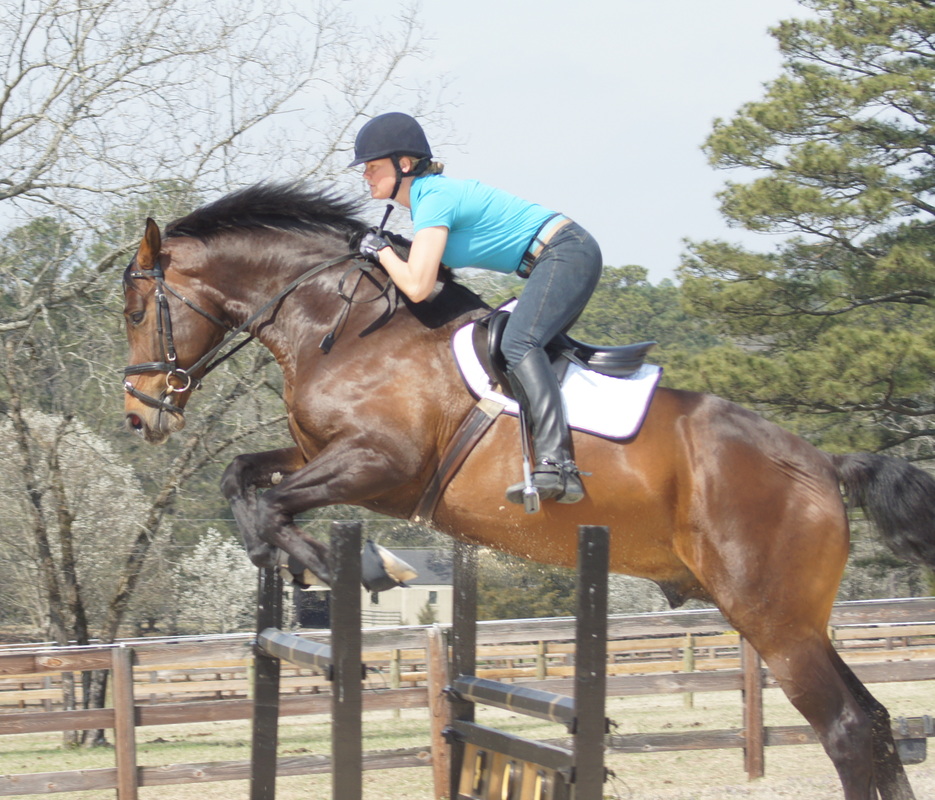 ROCAZINO in the news after NEDA FALL - The HOY results are here!
Rocazino is taking home 7 awards!!!

Fall 2012
What a year...
Rocazhey was born June 5, the most precious little filly. Rocazhey will shed out dark bay and finish around 16.3-17 hands.
Rocazino has had a tremendous season. We went to Centerline Stables to ride with Col. Christian Carde in March. The clinic was fantastic! From Centerline Stables we shipped back to Southern Pines, NC. Out first show of the season was at the Track at Pinehurst. Rocazino did not have one score below 71% and his highest score was 79%. Our showing has continued to be successful throughout the season, Rocazino is finishing the season top 4 for HOY First Level!
The NEDA Fall Festival was the pinnacle of the show season for Rocazino.
Mature Stallion - Champion
Mature Horse - Champion
Grand Champion - Champion
Reg 8 Breeders Champ Stallion - Champion
IBC Oldenburg - Champion
IBC AWR - Champion
1st level Sweep stakes - Champion
Reg 8 1st level championships - Champion
1st Level Freestyle - Winner
1st Level Freestyle champ - Res Champion

Next on the schedule is judging at the CDA Schooling Show at Sperry Farm in Bethany, CT. A possible trip to the Devon Breed Show with Linda Mendenhall. After that we will head to a much anticipated Col. Christian Carde clinic at Centerline Stables.
The USDF Convention is going to be the last thing we do this season!