Philosophy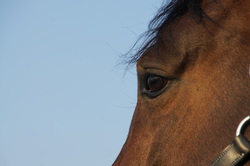 Equito Dressage believes in fostering healthy happy equines. Violence and force have no place in training the horse. To continuously better our team we work closely with
David Collins
, author of Dressage Masters and owner of SHS International.
At Equito Dressage, training and taking care of horses is not just a day-job, we live and breathe horses!
Our Mission
To Provide correct dressage training to horses in accordance with classical dressage and the training scale in a safe, ethical, supportive and positive learning environment.
To Bring the most out of equine athletes without ever compromise the health, safety, and wellbeing of the horse.
To create well-rounded equine athletes who enjoy their work.
Commitment to Education
Fie strongly believes that continued education is a must, to challenge herself to become a better rider, trainer and competitor she signed up to do the L-Program and completed it with Distinction. Fie found that she enjoyed judging so much that she applied and completed the 'r' Program and is now available for judging at rated shows also. Fie is planning on applying for the 'R' program in the future.
Commitment to the Community
Fie believes in giving back to the community, wether it is by taking a young student under her wing or by serving on a committee. She is always looking for for a hardworking enthusiastic working student.
Fie has been serving on the USDF Adult Programs Committee since 2012 and is serving on the US Equestrian Rules Working Group for 2017.
Background
The work done at home is the most important part of life with horses for Fie, though she does enjoy competing her and client horses both under saddle and in-hand (the handling part of the breed shows is out sourced to professional handlers). Fie has earned her Bronze, Silver and Gold Medals, as well as her Bronze and Silver Bars.
Fie Andersen grew up in Denmark where she developed an interest in horses at an early age. In her early years of riding she enjoyed showing both in the Jumpers and in Dressage. Fie moved to the US in 2003 to study Equine Management at Post University, and graduated Valedictorian from Post in 2006 with a 4.0 GPA.
David Collins, has been instrumental to Fie's continued dressage education, and to this day he is Fie's mentor.
Currently Fie spends the summer in Hamilton, MA where she trains out of her and Cyrus' quaint farm adjoining the Myopia Hunt Club, Fie shows in the New England area during those months. During the winter months Fie moves to the Southern Pines, NC farm. Fie kicks off the season showing at the beautiful new high end facility in Tryon. Tryon International Equestrian Center has been designed with with the horses well being and comfort as the main focus, the EQD horses approve!
Fie is available for clinics and judging at schooling shows!
---
Endorsements
Fie started training the dressage horses for Arion Sporthorses in November of 2016 and it is turning out to be a great collaboration. Equito and Arion have very similar philosophies in all areas of breeding, young horse raising, starting and training. So far The Duke of Clarence, a German Riding Pony Stallion, has earned his scores at 3rd Level to be approved with Weser-Ems! and Royal Dancer HM has been backed and went to her first show where she impressed the judge with her quality scoring 86.7% in her Materiale Class.
​At Equito we are very excited to see what the future will bring.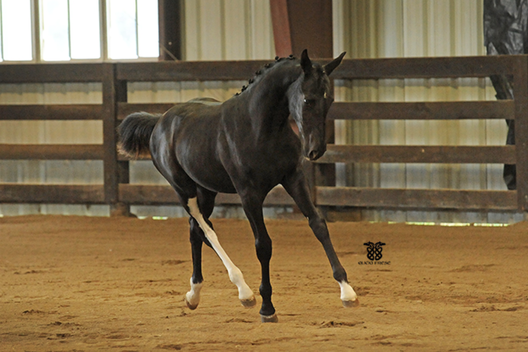 Arion Sporthorses derived its name from the mythological horse Arion, divinely gifted with immortality and extreme swiftness. We focus on careful selection of European quality mares and stallions to produce foals with the potential for FEI dressage and upper levels (1.45m+) of show jumping. Our focus is on breeding Hanoverian, German Oldenburg, and Dutch Warmblood horses, and we host the Georgia inspection site for the American Hanoverian Society each year. At Arion we aim for horses that are professional quality with solid temperaments. We also specialize in young horse and stallion raising and act as agents for certain outside stallions. Our breeding focus is on quality proven damlines, and as such we work to retain fillies from our best mares to eventually join our broodmare herd. Our two stallions, The Duke of Clarence and Altemus, stand at stud to outside mares as well as producing some foals for Arion each year. Located near Atlanta, Georgia, we are in close proximity to shows all over the East Coast and are less than an hour away from the Georgia International Horse Park. Please feel free to contact us regarding foal and young horse sales, stallion information, and custom breedings.
---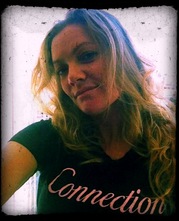 Black Horse Expressions was founded in 2010 as a means to showcase terms that inspire lovers of the sport of dressage. Words such as connection, balance, expression and rhythm adorn the highest quality t-shirts.

These expressions are also embraced by musicians, dancers, skaters as well as riders. Everyone can find a word that moves them!

These fashionable, fitted shirts are number one on the market for comfort, style and quality. Available in an array of gorgeous colors and fonts, they go from the barn to the gym to the market to dinner paired with your favorite jeans.

---
Fie enjoy sporting the high quality, super stylish t-shirts from Black Horse Expressions. She feels a clear connection to the philosophy of Black Horse Expressions!

In a time where gimmicks and unethical training tricks has made its way into dressage, Fie is proud to wear the words that are so important to classical dressage!

Let's remember what dressage is really about - and do it in style!
​
Master Saddles - Lucy Batchelor and David Boot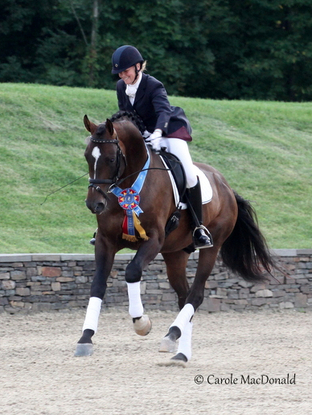 Lucy Batchelor and David Boot are both Master Saddlers trained in England. Lucy and David as saddle makers are proud to offer their own range of individual craftsman made saddles, MASTER SADDLES, build in England to their designs and specifications. Years of experience of saddle making, fitting horses and working with riders allows Lucy and David to diagnose issues that may arise due to poor or inappropriate saddle fit. By furthering the knowledge of the riders they work with regarding their saddles, they are able to help improve the performance of their horses. Lucy and David's primary goal is to help horses be as comfortable as possible.
They make models for the disciplines of dressage, hunter/jumper , and eventing.
These saddles are all designed with the horses needs in mind, as well as the riders, and use traditional and time tested materials and techniques.Custom features are available to accommodate your horses needs. Master Saddles are available through Brennan's Bit and Bridle and select agents.
Lucy and David also offer a comprehensive saddle repair service, specializing in the reflocking of wool flocked saddles.
Both Lucy and David have serious credentials as saddle makers:
David Boot was born in London, England, and became a saddlery apprentice at the age of 15 years old with George Parker and Sons, Saddlers to The Queen Mother. He was trained by the finest saddle makers in London, and went on to be granted the Royal Warrant to H.M. The Queen
Lucy Batchelor , also English, started her saddlery training at Cordwainers College, London, before signing up to a four year apprenticeship. She is a multiple winner at the Saddlers Company of London's annual saddle and bridle making competition.
Both David and Lucy are registered as Qualified Master Saddler members of the Society of Master Saddlers (U.K ) Ltd., the governing body of the saddlery trade in England.
Now , full time residents of the USA, David and Lucy reside on Eastern Long Island.

---
Fie has been riding in Master Saddles since 2007. Accomplishments she has made with Master Saddles include Several National Championships and National Reserve Championships, Several Region 8 Championships and Region 8 Reserve Championships, multiple Sweepstake Wins, and Numerous East Coast Rider's Cup Championships!
Fie Loves the knowledge behind the saddles, and the quality is absolutely amazing!
​
Centerline Stables, Team Equito's home away from home, could be dubbed as horse heaven! Nestled in the heart of Westchester County it is easily accessible from New York City and Conneticut! It is a premiere training facility, providing expert care of equines. The facility has acres and acres of turnout enclosed by safe fencing, and every turnout has its own automatic frost free waterer. The barns have oversized beautifully bedded stalls, and the horses every need is tended to by professional grooms. Every horse has a nutritional plan, training schedule, and care plan that is specifically tailored for his well-being!
Centerline offers a unique program with David Collins trains classical dressage, Sara Vanecek is a professional Sport Horse Handler with many championships under her belt, and she also specializes in Natural Horsemanship, allowing a tailored individualized program for each rider and horse.
David Collins is the resident trainer at Centerline Stables. David has ample international experience, he graduated from Stromsholm, the Swedish National Riding School and National Olympic Training Center. Rode as a working student with Udo Lange, and was subsequently hired to teach and train in Germany by Reitmeister Heinz Lammers. David rode in the Olympic Screening Trials in 1981 and was chosen to work with Jack Le Geoff.
David has trained numerous horses and students through Grand Prix. He currently works with horses and riders of various skill levels, finding great enjoyment in teaching at every level.

---
Fie has had the opportunity to work with David since 2002, David has been absolutely instrumental in shaping Fie as a trainer and teacher. The knowledge David passes on is more than just the technicalities of riding and training, it is a philosophy, one where the horses emotional and physical wellbeing is never compromised. David continuously helps Fie polish her skill set as a trainer and as a horsewoman. Under Davids tutelage Fie has earned multiple Regional Championships and National Championships.
Fie is very aware and appreciative of David's never ending support, and can't thank him enough!


| | |
| --- | --- |
| | At Hof Mendenhall, we strongly believe that breeding superior horses starts with top mares. All of our mares are performance tested and have achieved top titles from the Hanoverian Society...States Premium or Elite. All of our mares also possess top German Warmblood pedigrees, with sires and dams who have been successful or more importantly produced successful performance horses. We believe mares should be the complete package...conformation, movement, temperament, character and pedigree. All are essential! We believe in the Hanoverian Inspections and Mare Performance Tests to help us confirm the full package. |