Equito Dressage proudly offer horses for sale
​ - from our sources in the US and in Europe
The horses you find here are only a selection of the horses that are available through our connections in Europe. On this page you may find anything from unbacked youngsters, just backed young horses, horses trained through L and M levels and of course FEI school masters.
We decided to work with sources both in Denmark and in Spain to be able to offer a wide array of quality horses with good temperaments at different price and training levels. Most of the horses you find on this side are registered Hanoverians, Trakehners, or Danish Warmbloods, occasionally we will have other breeds as well as grade horses too.
If you do not see what you are looking for, please do not hesitate to contact us with your wish-list, our connections have many more horses available than what we list here!

We truly enjoy matching horses and riders and would love to have you join us on the journey! Horse shopping is not a 'one fits all' experience and we believe that the journey can be tailored to fit individual needs and requirements and thus be an experience of excitement rather than stress!
Please enjoy perusing our sales page, and don't hesitate contacting us with questions. We can be reached at equitodressage@gmail.com and on (508) 932 - 7744
---

​Petra - $6000
​​Beautiful 2009 15.3 JC registered Thoroughbred mare for sale. Petra is being re-started after taking a few years off to be a recipient mare, where she was a wonderful and easy mother. Petra is proving to be a very intelligent, but levelheaded mare; she loves to work and is always ready to go! She is the type that bonds hard to her person and I would love to see her in a home where she would be used in the sport, though she is also very interesting as a broodmare. She has been inspected with the GOV and the German inspector praised her conformation and gaits. He stressed that this is the kind of TB mare that is an asset to a breeding program and that she is one of the nicest TBs he has seen in North America. Petra received an overall 7.5 score. Petra is being carefully re-started, once she is WTC independently again her price will be increased to the low 5 figures.

​Rafaello ASH - Rosenthal/Davignport/Walt Disney I - $13,500

Rafi is a 2014 German Oldenburg Gelding who was awarded Premium at his inspection as a foal.
Currently located in GA but will be at Equito South soon.
​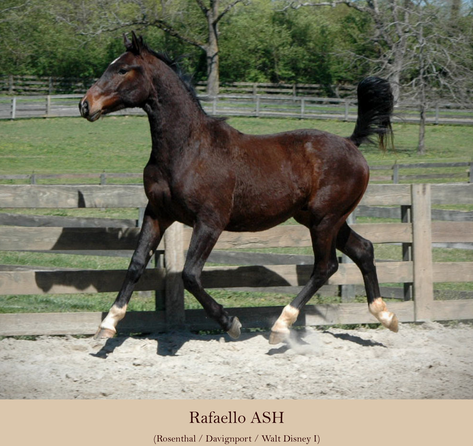 ​Cadeau ASH $12500
Caddy is a 2017 Premium Weser-Ems colt, sired by The Duke of Clarence, a stunning imported Approved 14.1 German Riding Pony Stallion and out of the 16.1 hand Darling Lily (Davignport/SPS Walt Disney I/Duerkheim). Caddy has the pedigree to be a smaller sized top dressage prospect, he is already showing a spectacular hindleg, and has three far above average gaits, with a particularly good canter. His personality is fun and he is always shows curiosity towards new things. Caddy is located in GA and can be seen there.

​Dariella ASH (Dante x Brilliant Diamond (Diamond Hit/Argentinus/Rubenstein)
$7500
​Darci is a 2016 filly, she is located in GA and can be seen there

​Clover 8 year old Warmblood mare - SOLD